Applicant Tracking System
June 22, 2018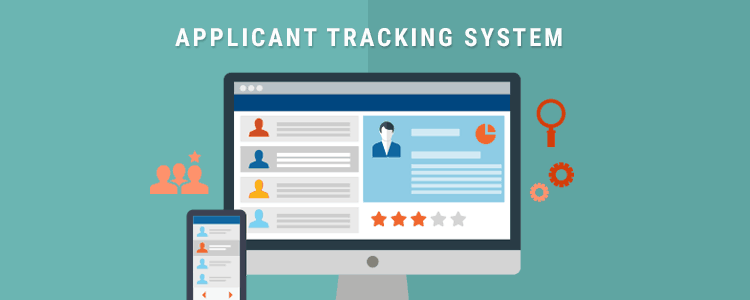 Applicant Tracking System and Talent Management System
Applicant Tracking System is a solution for electronic recruitment handling and management. Applicant tracking solution provides the hiring managers with the essential tools required to intelligently monitor and advances the candidates or the applicants through the hiring process. This also brings out the customer satisfaction. Over 80% of the companies that recruits candidates use the technology of ATS. ATS helps in business growth and bridge the gap between the hiring and HR departments and allow them to collaborate to take the best decisions. ATS automatically helps for the application process performed by the candidates, screening of the incoming resumes and streamlines the interviews schedules by the recruiters. ATS also assists HR and management staff to easily and efficiently monitor legal compliance and saves and stores the documents and information.
The advanced ATS offers the following –
The employee remains on-board.
Background confirmation
Human Resource Information System integration
Referral management
Social networking
Generates offer letters
Intelligently matches the candidates
Mobile accessibility
Reporting and analyzing features
It is vital for the customization of the ATS software to the requirements, needs and work structure of the organization. This also ensures optimal recruitment for each and every job opening which eventually increases the productivity of the enterprise.
E-recruitment or internet recruiting is the online recruitment that also uses this significant software of applicant tracking system. E-recruitment includes the process of finding and attracting the candidates, monitoring and analyzing them, interviewing and finally hiring the applicant. Even online examinations and online interviewing are conducted for the process of candidate selection.
Using the social media is another way of recruiting and this process is called social recruiting. It is another e-recruitment procedure to approach and obtain talented and skilful candidates for suitable job openings on social media like 'Facebook', 'LinkedIn' and 'Instagram.' It uses social media websites for advertising and posting job openings either through HR or through crowdsourcing where job seekers and other audiences share job openings in their network.
Staffing software is another key formula to avoid the problems associated with manual recruitment. This software is used by the temporary staffing agencies associated with recruiting part-time applicants. Staffing agencies are third-party firms for placement. They perform other functions like human resourcing, payroll, job posting and accounting. It saves time and performs additional functions like checking the background, skills, qualifications and experiences and eliminates those candidates who are not suitable for the job designation. The staffing software also holds and stores the details and information of the candidates and notifies them whenever there is a new job opening appropriate for the candidates. Staffing software is a combination of applicant tracking system and customer relationship management.
Talent Management System
It is a software that helps to qualify the candidates, manages the talents and retains the human capital within an organization. It is designed to keep a track of talented employees within an organisation and this technology is applied by the human resource management professionals. Traditionally speaking, there are '4' pillars but recently the HR professionals added another pillar or broad functional areas –
On-boarding and hiring
Learning, development and improvement
Performance management
Compensation management
Succession planning