Online Recruitment Software
March 17, 2018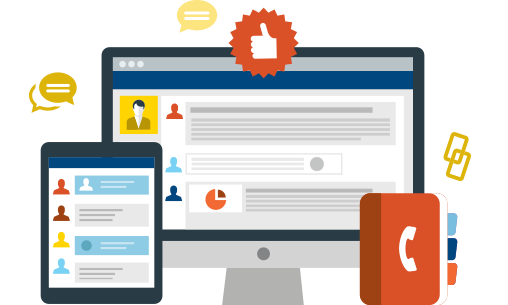 For any organization, smooth operations can be facilitated with communication. Online recruitment software with strong communication features is necessary to boost the productivity and efficiency of your business, and make the corporate environment more user-friendly, modern and reliable. Here are 5 communication features to look for in online hiring software for your company.
Email integration
It is important to preserve healthy relationships with clients as well as applicants. The software needs to come with state of the art communication features included with Microsoft Outlook, Gmail and other email providing companies that are common choices today. The software should let you track emails as well as let you schedule follow-ups and calendar meetings, to achieve customer satisfaction very easily.
Social media
Recruitment through social media and career portal is constantly increasing, and the software should integrate websites such as Twitter, Facebook or LinkedIn to make posts available to an international audience and also help monitor the job application as well as personal profiles on the social pages of candidates in order to get better insights. This aids in more appropriate and better hiring. It should also aid in boosting the SEO standing of the company, which is very important these days.
Way text messaging
Look for this capability in the software, to ensure efficient and fast communication. When you send SMS messages through it, the system should track all the replies and notify you about the coming of these messages. It can make things more efficient and can remove the wastage of time in individually calling up every candidate. The software should let send match replies and batch texts to outgoing messages, and keep everything properly organized and accessible.
Phone integration
Go for a software program that comes with VOIP technology that can let you call applicants not with traditional phone line but the internet. This can help you in those stages of the hiring process when you need to directly talk to the candidate. This feature can also improve the simplicity as well as audio quality. Some programs come with 'click-to-dial' feature added, which adds to the efficiency and speed of calls. Every call is also recorded to be used later.
Talent community
By harnessing its talent community, this kind of staffing software can also let you use the official career page of the company website as a candidate hub. It can let you improve your quality of recruitment and enhance the culture of your company.